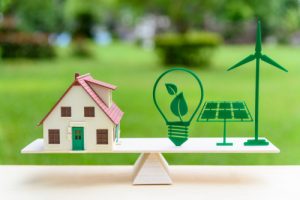 Here at Healthy Communities, we are incredibly proud and honored to announce that we have been awarded the prestigious 2023 U.S. Department of Energy Housing Innovation Award. This recognition is a testament to our unwavering commitment to creating sustainable, eco-friendly, and thriving communities that prioritize the well-being of our residents. In this blog post, we would like to share the story of our journey and the values that underpin our success, as well as the significance of this award for us and the communities we serve.
Our Journey to Excellence
Healthy Communities was founded with a simple yet profound vision: to build neighborhoods where people can live, work, and play in harmony with the environment. Our journey began with a handful of passionate individuals who shared this dream, and it has grown into a thriving business with a mission to redefine what it means to live in a healthy community.
For us, "healthy" goes beyond just physical health. It encompasses emotional well-being, a sense of belonging, and environmental sustainability. Our developments focus on green building practices, energy efficiency, and community engagement, all of which contribute to a better quality of life for our residents.
Our Core Values
To understand the significance of the 2023 U.S. Department of Energy Housing Innovation Award, one must first appreciate the core values that guide our actions every day:
Sustainability: We are deeply committed to minimizing our ecological footprint. Our homes are designed with energy-efficient features, such as solar panels, advanced insulation, and smart home technologies that reduce energy consumption.
Community: Building strong, resilient communities is at the heart of what we do. We believe in creating spaces where neighbors know and support one another, fostering a sense of belonging.
Innovation: Embracing cutting-edge technologies and ideas is vital to our success. We are constantly researching and implementing innovative solutions that make our communities more eco-friendly and comfortable.
Accessibility: We aim to provide housing that is accessible to a diverse range of individuals, regardless of their income. Affordable housing should not mean compromising on quality.
The 2023 U.S. Department of Energy Housing Innovation Award
Winning the 2023 U.S. Department of Energy Housing Innovation Award is a remarkable achievement for Healthy Communities. This prestigious accolade recognizes our unwavering dedication to the values we hold dear and the impact we've made on the housing industry. It reinforces our commitment to creating a better future for everyone.
Eco-Friendly Building Practices
One of the key factors that contributed to our winning this award is our commitment to eco-friendly building practices. All our developments prioritize sustainability by incorporating features like solar power, energy-efficient appliances, and responsible waste management. Our homes are designed not only to reduce the carbon footprint but also to save residents money on energy bills. This award acknowledges our leadership in environmental stewardship.
Community Engagement
Another pillar of our success is our strong focus on community engagement. We believe that a healthy community is one where people connect, collaborate, and thrive together. We have organized numerous events, workshops, and activities to foster a sense of belonging in our neighborhoods. Our commitment to social sustainability has been a significant factor in securing this prestigious award.
Innovation in Housing
Healthy Communities constantly strives to innovate in the field of housing. We have integrated smart home technologies, green infrastructure, and the latest construction methods into our developments. We have also collaborated with leading architects and designers to create homes that are both aesthetically pleasing and environmentally responsible. Winning the Housing Innovation Award from the U.S. Department of Energy is a testament to our forward-thinking approach to housing development.
The Impact of the Award
Winning the 2023 U.S. Department of Energy Housing Innovation Award is a remarkable achievement for us, but it's also a tremendous boost to our commitment to healthier, more sustainable communities. This recognition highlights the importance of sustainable housing and community building, and it encourages us to continue pushing the boundaries of what's possible in our industry.
We hope that this award will inspire other businesses and communities to embrace the principles of sustainability and innovation. We believe that by working together, we can create a more prosperous and harmonious future for all. It's a recognition not just of our past accomplishments but also an inspiration for the journey ahead.
Thank You
We want to express our gratitude to the U.S. Department of Energy for this incredible honor. It reaffirms our mission and strengthens our resolve to continue building healthy communities that bring people together, protect the environment, and provide affordable, innovative housing solutions. We would also like to extend our heartfelt thanks to our residents and partners who have been instrumental in our journey.
The 2023 U.S. Department of Energy Housing Innovation Award is more than just an accolade; it's a symbol of our commitment to a better, more sustainable future. We're excited about the path that lies ahead, and we look forward to creating even more remarkable communities in the years to come. Thank you for joining us on this incredible journey, and we can't wait to share our future successes with you. Together, we can make a difference in the world of housing and build healthier, more sustainable communities for all.
Need Home Builders in Williamsburg, VA?
Welcome to Healthy Communities in beautiful Williamsburg, Virginia! We are custom home builders with a focus on efficient and green building. We believe that good home design can support, enrich, and enhance your life, so we engage you as the buyer in the design process. Together, we can create a tailored design that provides an extraordinary living experience. Our homes are engineered to be energy efficient, utilizing green building products, value-engineered construction, enhanced indoor air quality, and solar power to help offset the electric utility cost for heating, cooling, water heating, lights, and appliances. Give us a call to get started today!